Forged by meaningful happenings and by its handicraft origin, Savage Culture proposes creative collections, curious and daring with strong colours and personality. Fashion as the expression of values, transforming the act of being dressed in feeling life with passion, emotion and imagination, with humour and fantasy. A utopia transforming reality, which value is the free expression of the being by forms and colours that transcend the merely visual, creating a feel of belonging and empathy. The creation of the Savage Culture garments is made by a harmonic and almost handcrafted process, due to the fact that in just one garment we can find elements like embroideries, crochets, patches, rhinestones, and loads of elements that enhance the product. The rustic look the Savage Culture garments require a "controlled imperfection", studied variations that are achieved by putting the traditional handcraft techniques at the service of design. Conceived to last, its imperfect essence is kept by carefully respecting its natural qualities.
Wild Curves: Gift Certificate or E-Gift Card (Various Denominations)
WC_GIFTCERT_N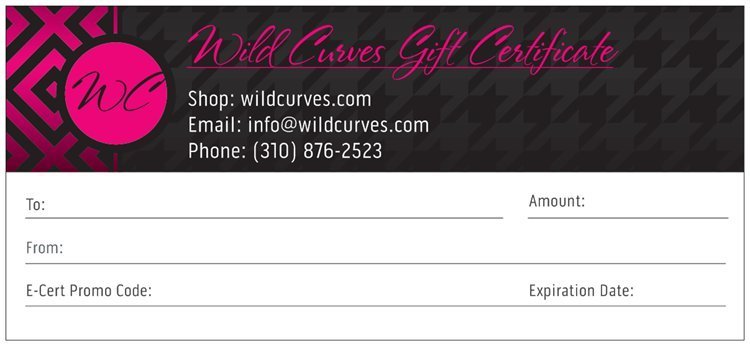 Wild Curves: Gift Certificate or E-Gift Card (Various Denominations)
Grab a gift certificate or E-gift card for friends and family!
Specially designed WC E-card or Certificate for any occasion!
You choose: E-cards, sent by email only and can be received almost instantly to you or the gift recipient. Include any comments on e-gift cards. Or, a gift certificate to be mailed in a fancy envelope worldwide. All gift certificates are pre-printed with a standard format.
To redeem either E-gift card or Gift certificate, simply apply the gift promo code in the coupon code box at checkout. Redeemable online or by phone.
For special messages to be included with your e-gift card, post in comment box during checkout.
Available in $10, $25, $50, $100, $200, $500 denominations
E-gift card received within 1 hour (upon request) of purchase to the designated email or delivery date of your choice
Gift certificates: Delivered within 2-3 business days within the USA via the free shipping option. All other countries see shipping options at checkout.
Gift
E-Card (By email) (0) Gift Certificate (By traditional Mail) (0)
Denomination
10 (0) 25 (0) 50 (0) 100 (0) 200 (0) 500 (0)