Forged by meaningful happenings and by its handicraft origin, Savage Culture proposes creative collections, curious and daring with strong colours and personality. Fashion as the expression of values, transforming the act of being dressed in feeling life with passion, emotion and imagination, with humour and fantasy. A utopia transforming reality, which value is the free expression of the being by forms and colours that transcend the merely visual, creating a feel of belonging and empathy. The creation of the Savage Culture garments is made by a harmonic and almost handcrafted process, due to the fact that in just one garment we can find elements like embroideries, crochets, patches, rhinestones, and loads of elements that enhance the product. The rustic look the Savage Culture garments require a "controlled imperfection", studied variations that are achieved by putting the traditional handcraft techniques at the service of design. Conceived to last, its imperfect essence is kept by carefully respecting its natural qualities.
Savage culture: Pink Leopard Boho Maxi Dress
SAVAGE_36220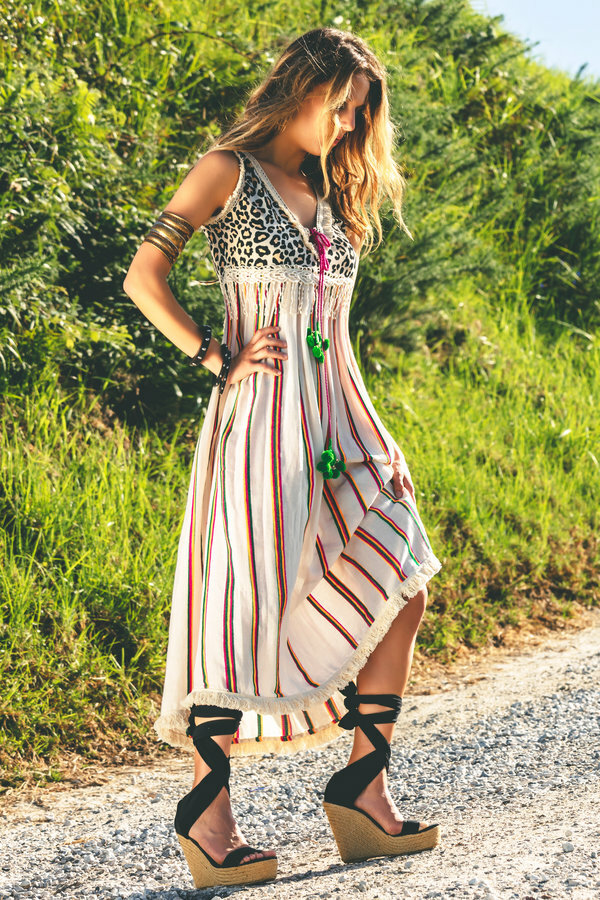 Savage culture: Pink Leopard Boho Maxi Dress
Spring/Summer 2019 Collection
Leopard bodice with Pink boho hanging ties is this fun maxi dress!
Crocheted V-neck
Leopard bodice
Capped shoulders
Pink hanging ties
Green heart puffs
Linear vertical pattern
Crocheted waist, shoulders and hem
Maxi dress
Hits about ankle length
Hot Hues: French Creme with a sprinkle of Pink, Green, Leopard and Coral
Fabric: 100% Rayon
Machine wash cold inside out. Delicate cycle
Designed in Spain
Ships Immediately in: S, M (1 Left in each!)
Size
S (US 4-6) Ships Immed, 1 Left! (0) M (US 8-10) Ships Immed, 1 Left! (0)