Inspired by the tastes and spirits of the South of France, this brand transcends from the hills of a province named after a celebratory drink: Champagne! The flavors, colors and rich energy of Champagne are some of the intriguingly sexy attributes of this brand's designs. There fashion motto is to dress the everyday active woman with styles that possess assertiveness and sophistication with a flair of seduction in a ready to wear feminine line. This philosophy speaks for itself through the luxurious fabric, forward-thinking cuts and stunningly beautiful colors.
Paul Brial: Fabulous Trio Of Tulips Top
PB_CALICE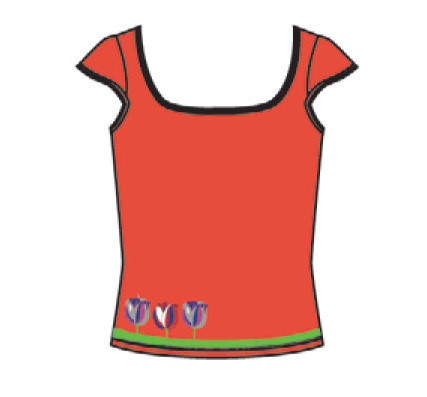 Paul Brial: Fabulous Trio Of Tulips Top
Spring/Summer 2019 Collection
Inspired by the Gardens of Mallorca is this delicately beautiful top with a trio of embroidered tulips at the hem!
Scoop neck
Capped shoulder
Soft tunic
Delicate design
A trio of embroidered tulips at hem
Vibrant colors
Hits about waistline
Hot Hues: Tangerine with a touch of Royal Blue, Fuschia Pink and Vanilla White
Fabric: 95% Cotton/Viscose blend, 5% Elastane
Machine wash cold, inside out. Delicate cycle
Made in France (Imported from Portugal)
Ships: 7-14 days
Size
T0 (US 0-2) (0) T1 (US 2-4) (0) T2 (US 4-6) (0) T3 (US 6-8) (0) T3 (US 8-10) (0) T4 (US 10-12) (0) T6 (US 14-16) (0)