Paradizia Swimwear is full of color and magic, to satisfy the world with innovative designs and an unconventional atmosphere of a charming beach.
It is an exotic brand of paradise in which a woman feels confident and shines with her sexy and joyful spirit in a mermaid fairytale atmosphere when she enters to the Paradizia world. The colors used provide richness and are an eclectic mix of stunning prints with studied patterns and silhouettes of high-design, resulting in a provocative look of youthful, non-traditional and unique fit with incredible elements to suit the figure and highlight it. The versatility in the silhouettes makes this brand chic, sensual, exotic, functional, romantic and always fun!
Magnificent garments made to show: Halter, bandeau, adjustable triangles, asymmetrical, hipster, monokini, among others. The fluid fabrics used create a delicate and flirty glamour look for day or night. The high quality of this brand is reflected from the inside of the garments, soft printed fabrics of high technology make it look impeccable both outside and inside. Slip into this sexy swimwear and fall in love at first wear!
Get free beach chantilly top with purchase of any Paradizia swim suit!
Wild Curves: Gift Certificate or E-Gift Card (Various Denominations)
WC_GIFTCERT_N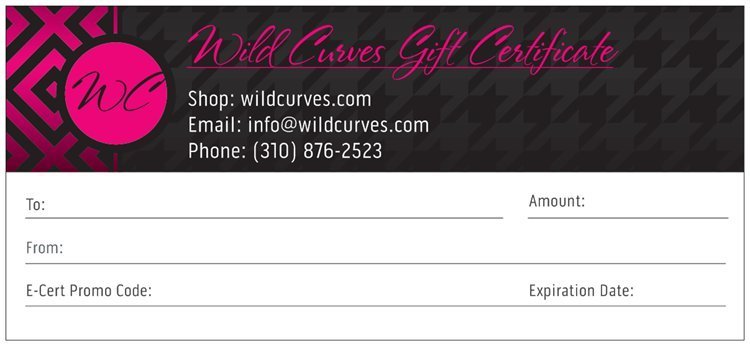 Wild Curves: Gift Certificate or E-Gift Card (Various Denominations)
Grab a gift certificate or E-gift card for friends and family!
Specially designed WC E-card or Certificate for any occasion!
You choose: E-cards, sent by email only and can be received almost instantly to you or the gift recipient. Include any comments on e-gift cards. Or, a gift certificate to be mailed in a fancy envelope worldwide. All gift certificates are pre-printed with a standard format.
To redeem either E-gift card or Gift certificate, simply apply the gift promo code in the coupon code box at checkout. Redeemable online or by phone.
For special messages to be included with your e-gift card, post in comment box during checkout.
Available in $10, $25, $50, $100, $200, $500 denominations
E-gift card received within 1 hour (upon request) of purchase to the designated email or delivery date of your choice
Gift certificates: Delivered within 2-3 business days within the USA via the free shipping option. All other countries see shipping options at checkout.
Gift
E-Card (By email) (0) Gift Certificate (By traditional Mail) (0)
Denomination
10 (0) 25 (0) 50 (0) 100 (0) 200 (0) 500 (0)