Are you looking for designer fashion made just for you? Do you want to delve into designer couture that understands your curves and loves them? Do you crave the made in Paris label, but thirst even more for it to actually be sewn with threading produced in France in the tradition that made Paris the world capital of fashion? I know you do and that is why we are revealing couturier ME to you. Glance at the uniquely designed tunics, pants and dresses - they are oh so trendy and chic! ME Paris, as the name suggests, totally rocks your day and night looks. All of their pieces are produced with the intention of complementing our curves and turning a sexy spotlight on three areas: bust, waist, and our juicy hips - smoothing out any imperfections and forming an illusion of a perfect hourglass figure! This flawlessly named label with creative collections designed solely for the fashionably focused female ranges in sexy USA calibers 6-24!
Wild Curves: Gift Certificate or E-Gift Card (Various Denominations)
WC_GIFTCERT_N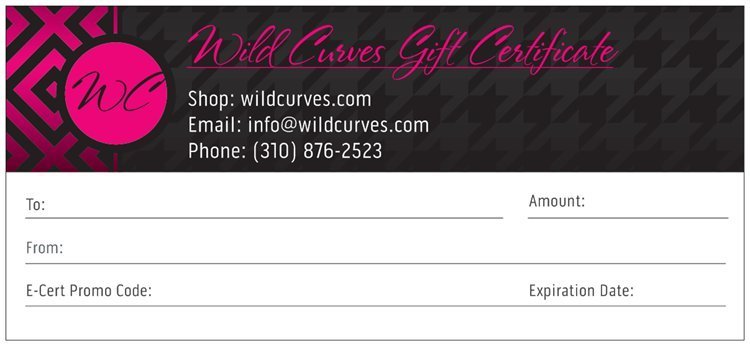 Wild Curves: Gift Certificate or E-Gift Card (Various Denominations)
Grab a gift certificate or E-gift card for friends and family!
Specially designed WC E-card or Certificate for any occasion!
You choose: E-cards, sent by email only and can be received almost instantly to you or the gift recipient. Include any comments on e-gift cards. Or, a gift certificate to be mailed in a fancy envelope worldwide. All gift certificates are pre-printed with a standard format.
To redeem either E-gift card or Gift certificate, simply apply the gift promo code in the coupon code box at checkout. Redeemable online or by phone.
For special messages to be included with your e-gift card, post in comment box during checkout.
Available in $10, $25, $50, $100, $200, $500 denominations
E-gift card received within 1 hour (upon request) of purchase to the designated email or delivery date of your choice
Gift certificates: Delivered within 2-3 business days within the USA via the free shipping option. All other countries see shipping options at checkout.
Type
Happy Holidays! (0) Happy Birthday! (0) Happy Anniversary! (0) Congrats! (0) Just Because! (0)
Gift
E-Card (By email) (0) Gift Certificate (By traditional Mail) (0)
Denomination
10 (0) 25 (0) 50 (0) 100 (0) 200 (0) 500 (0)