Far from clichés and pre-established rules, Maloka has its unique universe known by her creative cuts, mixed materials and fine details. A casual look that can be combined according to your pleasure or mood, always giving priority to fabric quality and comfort. Casual chic collections with new stories, feminine silhouettes and fresh colours each season. Maloka is a brand designed for trendy women.
Maloka: Dyed Linen Asymmetrical Tunic (More Colors!)
MK_TAYA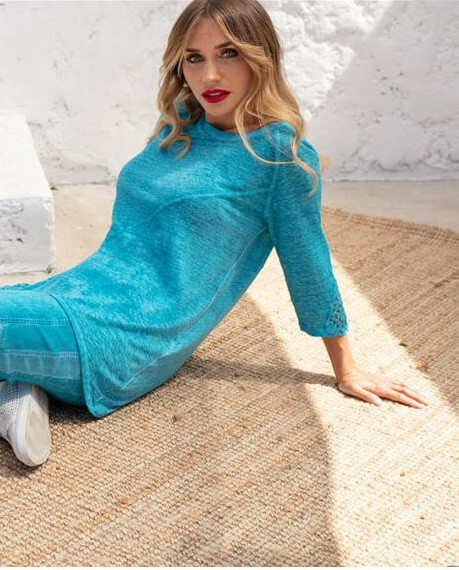 Maloka: Dyed Linen Asymmetrical Tunic
Spring/Summer 2021
Crocheted patchwork, vibrant dyed color and an asymmetrical cut is this super cute and comfy tunic!
Scoop neck
Three-Quarter length sleeves
Crocheted patchwork at upper back, cuffs and left hem
Asymmetrical hemline
Vibrant dyed colors
Linen with stretch for superior comfort and fit
Asymmetrical bodice seams
Fit and flare
Comfy fit
Hits about mid-thigh
Hot Hues: Indigo, Fuschia, Turquoise, Taupe, Crimson
Fabric: 100% Linen knit
Machine wash cold, inside out. Delicate cycle. Lay flat to dry
Made in Portugal
Ships: 7-10 days
To order other colors, not in the options, email us.
Color
INDIGO (0) FUSCHIA (0) TAUPE (0) TURQUOISE (Bleu Celeste) (0) CRIMSON (Coquelicot) (0)
Size
T1 (US 2-4) (0) T2 US 4-6) (0) T3 (US 6-8) (0) T3 (US 8-10) (0) T4 (US 10-12) (0) T4 (US 12-14) (0) T5 (US 14-16) (0) T6 (US 16-18) (0) T6 (US 18-20) (0) T7 (US 20-22) (2.99)