Luna Luz clothing offers a timeless style for women of all ages. Known for feminine elegance, sultry seduction and incredible comfort, this line presents high fashion items with details like full skirts, pintucks, gathers ,princess seams and more. Did I mention the hot hues on these frocks? Yes, the feather dyed dresses, skirts, and tunics will brighten and impress everyone's wardrobe. With natural fabrics like cotton, linen and silk, as well as perfectly poofy bottoms with the ease of the pull of a tie Luna Luz effortlessly brings the romance of 18th century into your modern day lives. Oh and an added bonus: Always made in the USA!
Luna Luz: Tied & Dyed Midi Cotton Skirt (Many Colors, Some Ship Immed!)
LL_197T_N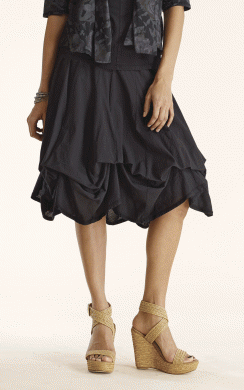 Luna Luz: Tied & Dyed Midi Cotton Skirt
Spring/Summer 2019 Collection
Creatively designed with comfort and style in mind is this inner hidden tied skirt for poof on a midi length and comes in many cool colors - all in Cotton fabric!
Elastic waist
Pull-on
Midi length
Hidden interior ties for more or less poof effect
Ties also adjust length (Slightly longer or shorter as desired)
Unique paneled dart design
Soft Cotton
Cardigan in picture is not available
Size Guide:
S: 4-6 (22" Waist, 36" Hip, 23" Length)
M: 8-10 (24" Waist, 40" Hip, 24" Length)
L: 12-14 (26" Waist, 44" Hip, 25" Length)
XL: 16 (27" Waist, 48" Hip, 26" Length)
Hot Hues: Black, White, Pale Grey, Electric Blue and more!
Fabric: Waist Panel - 90% Cotton, 10% Lycra, Skirt - 100% Cotton
Hand or machine wash, Dry flat or tumble low
Made in the USA
Ships in 3-7 days: Black: M, L, XL White: S, M, L, XL, Bonfire: L, XL, Electric Blue: M, L, XL, Linen: S,M,L, Navy: S, L, XL, IRIS: S, M, L, Cartwheel: M (1 Left in each!)
Color
BLACK (0) WHITE (0) ELECTRIC BLUE (0) BONFIRE RED (0) LINEN (0) NAVY (0) CARTWHEEL (0) IRIS (0)
Size
S (US 4-6) (0) M (US 8-10) (0) L (US 12-14) (0) XL (US 14-16) (0)