Luna Luz clothing offers a timeless style for women of all ages. Known for feminine elegance, sultry seduction and incredible comfort, this line presents high fashion items with details like full skirts, pintucks, gathers ,princess seams and more. Did I mention the hot hues on these frocks? Yes, the feather dyed dresses, skirts, and tunics will brighten and impress everyone's wardrobe. With natural fabrics like cotton, linen and silk, as well as perfectly poofy bottoms with the ease of the pull of a tie Luna Luz effortlessly brings the romance of 18th century into your modern day lives. Oh and an added bonus: Always made in the USA!
Luna Luz: Enchanting Feather Tied & Dyed Dress SOLD OUT
LL_93TF_N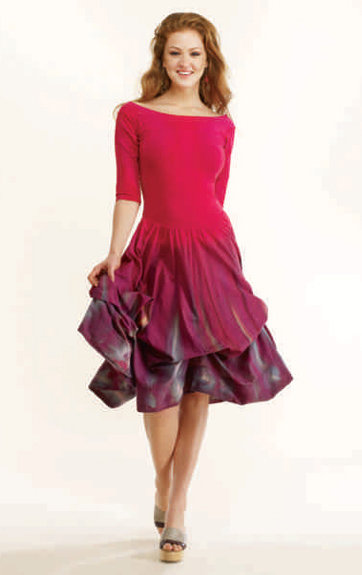 Luna Luz: Enchanting Feather Tied & Dyed Dress
Slip into an enchanting feather tied & dyed dress for every occasion and every season!
Off the shoulder scoop neckline
Three-quarter length sleeves
Feather tie dyed bottom
Dropped waist
Interior ties can be adjusted to create a poofy look
Untied inside ties: Create a graceful skirt look
Neckline can be adjusted for any bra type
Soft, sexy hues in an enchanting styled dress!
Falls about mid-calf
Hot Hues here: Midnight Indigo with a tie dye of Rose Red, Celery and a sprinkle of Fuschia purple OR Tangy Tangerine with a tie dye of Baby Pink and a sprinkle of Limoncello
Fabric: First - 95% Cotton Knit, 5% Elastane, Second: 100% Cotton Woven
Made in USA - Custom Made. Color swatches may vary slightly.
filterColors:FFC0CB,FF0000,24A226,000000,FF7F50
ships:immediately