Luna Luz clothing offers a timeless style for women of all ages. Known for feminine elegance, sultry seduction and incredible comfort, this line presents high fashion items with details like full skirts, pintucks, gathers ,princess seams and more. Did I mention the hot hues on these frocks? Yes, the feather dyed dresses, skirts, and tunics will brighten and impress everyone's wardrobe. With natural fabrics like cotton, linen and silk, as well as perfectly poofy bottoms with the ease of the pull of a tie Luna Luz effortlessly brings the romance of 18th century into your modern day lives. Oh and an added bonus: Always made in the USA!
Luna Luz: Corset Buckles Crop Top (1 Left in Pale Pink, Ships Immed!)
LL_316_TOP_N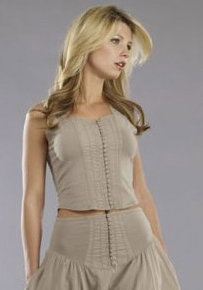 Luna Luz: Corset Buckles Crop Top
Spring/Summer Collection
Fall into style with a sexy crop top with an extra feminine corset buckle closure!
High cut sweetheart neck
Wide tank-type straps
Front planket in Woven Cotton
Body in Cotton and Lycra
Pull-over also functional buttons
Corset-like buckles closure
Fitted cut
Sexy
Fancy stitching
Pants in picture, sold separately!
Hot Hues here: Black, Bonfire, Chocolate, Iris, Militant, Mineral, Navy, Slate, Sandy
Fabric: Knitl: 90% Cotton, 10% Lycra, Woven: 100% Cotton
Hand or Machine Wash Cold Separate, Dry Flat or Tumble Low
Made in USA
Ships Immediately (Eligible for Free Next Day): PALE PINK MEDIUM (1 Left!)

Wear it with:

Luna Luz Corset Buckles Culotte Pant More Colors, Some Ship Immed!
filterColors:FF7F50,4B0082,A0A0A0,FFFFFF,000000,FFC0CB,00A8FF
ships:immediately