Are you in the mood for playful, colorful and fairy tale like fashion that will transform your magical style dreams into reality? Then we have the perfect Parisian couturier for you! Introducing French fashion line:
Les Fees Du Vent
, translated "Fairies of the Wind". Filled with patterns and embroidery, this collection makes 10 flirtatious and poetic motifs for each season and wildcurves.com is the exclusive and official online retailer to carry this sexy style! In our store we got unbelievably colorful, sexy dresses, tops, leggings and more from Les Fees Du Vent! Here's a little more fairy dust for you: each garment from this fashioner fulfills figures 6-20 and is always made in France! Limited quantities of these gorgeous items are available, so don't wait to be seduced by this flirtatious fashion! Shipping is FREE, and you have 14 days for return and  exchange!
Wild Curves: Gift Certificate or E-Gift Card (Various Denominations)
WC_GIFTCERT_N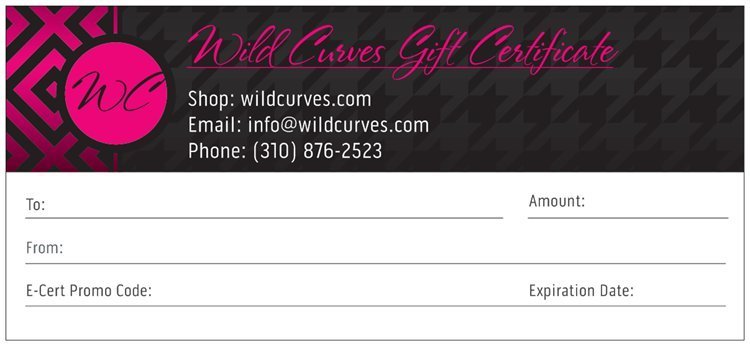 Wild Curves: Gift Certificate or E-Gift Card (Various Denominations)
Grab a gift certificate or E-gift card for friends and family!
Specially designed WC E-card or Certificate for any occasion!
You choose: E-cards, sent by email only and can be received almost instantly to you or the gift recipient. Include any comments on e-gift cards. Or, a gift certificate to be mailed in a fancy envelope worldwide. All gift certificates are pre-printed with a standard format.
To redeem either E-gift card or Gift certificate, simply apply the gift promo code in the coupon code box at checkout. Redeemable online or by phone.
For special messages to be included with your e-gift card, post in comment box during checkout.
Available in $10, $25, $50, $100, $200, $500 denominations
E-gift card received within 1 hour (upon request) of purchase to the designated email or delivery date of your choice
Gift certificates: Delivered within 2-3 business days within the USA via the free shipping option. All other countries see shipping options at checkout.
Type
Happy Holidays! (0) Happy Birthday! (0) Happy Anniversary! (0) Congrats! (0) Just Because! (0)
Gift
E-Card (By email) (0) Gift Certificate (By traditional Mail) (0)
Denomination
10 (0) 25 (0) 50 (0) 100 (0) 200 (0) 500 (0)