French designer brand, Double Jeu, is a style defined by relaxation, sexuality and femininity.  Double Jeu, translated "Double Game", ignores all fashion codes and never plays by the rules when it comes to their unique concept of style. Being in the couture business for over 20 years, this fashioner is limitless in their creative designs that have been admired and adored by savvy females across Europe, USA and Asia! The collection comes in a symphony of patterns where cuts and volumes rock and roll with the sensual shapes of the female body. The diversity of pants, tunics, tops, dresses and scarves achieve an unsurpassed total look that can be worn day or night! The spirit of freedom that is the foundation of  Double Jeu is the undisputed benchmark for your wardrobe. The Double Jeu woman remains feminine and whimsical, while having fun with materials and forms to challenge whatever the occasion. It's double the game and double the fun - to stay addicted is to be doubly different and deliciously dressed all of the time!
Wild Curves: Gift Certificate or E-Gift Card (Various Denominations)
WC_GIFTCERT_N3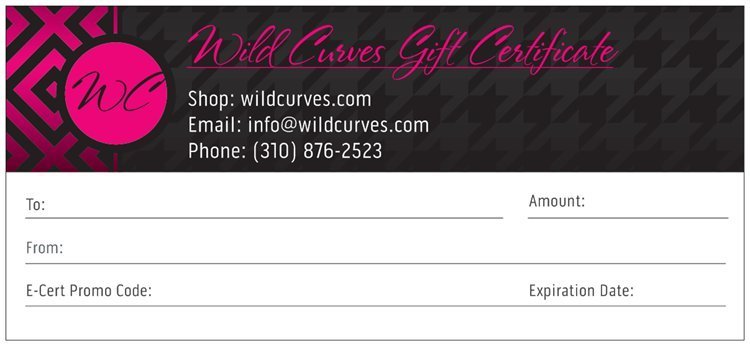 Wild Curves: Gift Certificate or E-Gift Card (Various Denominations)
Grab a gift certificate or E-gift card for friends and family!
Specially designed WC E-card or Certificate for any occasion!
You choose: E-cards, sent by email only and can be received almost instantly to you or the gift recipient. Include any comments on e-gift cards. Or, a gift certificate to be mailed in a fancy envelope worldwide. All gift certificates are pre-printed with a standard format.
To redeem either E-gift card or Gift certificate, simply apply the gift promo code in the coupon code box at checkout. Redeemable online or by phone.
For special messages to be included with your e-gift card, post in comment box during checkout.
Available in $10, $25, $50, $100, $200, $500 denominations
E-gift card received within 1 hour (upon request) of purchase to the designated email or delivery date of your choice
Gift certificates: Delivered within 2-3 business days within the USA via the free shipping option. All other countries see shipping options at checkout.
Type
Happy Holidays! (0) Happy Birthday! (0) Happy Anniversary! (0) Congrats! (0) Just Because! (0)
Gift
E-Card (By email) (0) Gift Certificate (By traditional Mail) (0)
Denomination
10 (0) 25 (0) 50 (0) 100 (0) 200 (0) 500 (0)