A new designer in the world of fashion, one that comes from the Canary Islands: Culito From Spain. A style that is as free and fun as the as the country it's produced in. The originality of these garments comes from the photography and storytelling on each and every garment produced. With the help of designers from all over the world and the master fashioner's expertise as a photographer, Christian Masterpierro, the founder of the brand, captures the essence of the fairy tale and transports it digitally onto the garment. All of the dresses, tunics, tops and leggings pronounce the female's shape as a silhouette of intrigue and confidence, which is quite profoundly seen in the designs of this brand. "When a woman goes into a shop and chooses one of our dresses, subconsciously she has chosen a story that has an affinity with her. She is showing some of her inside on the outside," says Mr. Mastroprierro.
Wild Curves: Gift Certificate or E-Gift Card (Various Denominations)
WC_GIFTCERT_N3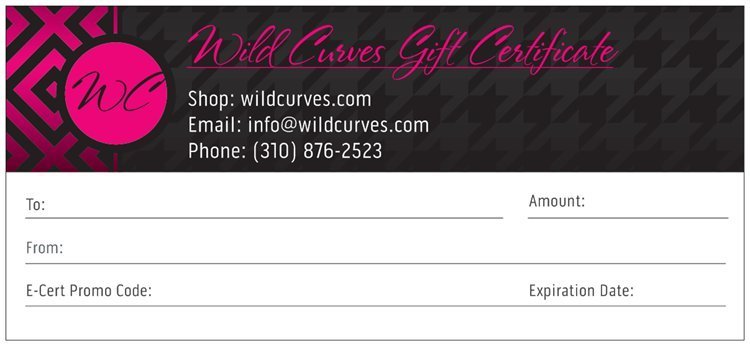 Wild Curves: Gift Certificate or E-Gift Card (Various Denominations)
Grab a gift certificate or E-gift card for friends and family!
Specially designed WC E-card or Certificate for any occasion!
You choose: E-cards, sent by email only and can be received almost instantly to you or the gift recipient. Include any comments on e-gift cards. Or, a gift certificate to be mailed in a fancy envelope worldwide. All gift certificates are pre-printed with a standard format.
To redeem either E-gift card or Gift certificate, simply apply the gift promo code in the coupon code box at checkout. Redeemable online or by phone.
For special messages to be included with your e-gift card, post in comment box during checkout.
Available in $10, $25, $50, $100, $200, $500 denominations
E-gift card received within 1 hour (upon request) of purchase to the designated email or delivery date of your choice
Gift certificates: Delivered within 2-3 business days within the USA via the free shipping option. All other countries see shipping options at checkout.
Type
Happy Holidays! (0) Happy Birthday! (0) Happy Anniversary! (0) Congrats! (0) Just Because! (0)
Gift
E-Card (By email) (0) Gift Certificate (By traditional Mail) (0)
Denomination
10 (0) 25 (0) 50 (0) 100 (0) 200 (0) 500 (0)