Real Reviews From Real Customers

Luna Luz: Short Sleeve Cross Over Bodice Long Dress (NEW Fall Color: Ships Immed in Olive, Few Left!)
BEST DRESS EVER
I live in this dress--I have more than a dozen in different shades. I wear it all summer. It is machine washable, comes out great, doesn't need ironing (the skirt is supposed to be somewhat crinkled), has giant pockets and is very flattering. What more can a woman ask?
Real Reviews From Real Customers
Simply Art Dolcezza: Still Life For A Wedding Party Soft Denim Art Jacket
Very happy
I am very happy with my jacket. It is as advertised
Wild Curves: Gift Certificate or E-Gift Card (Various Denominations)
WC_GIFTCERT_N3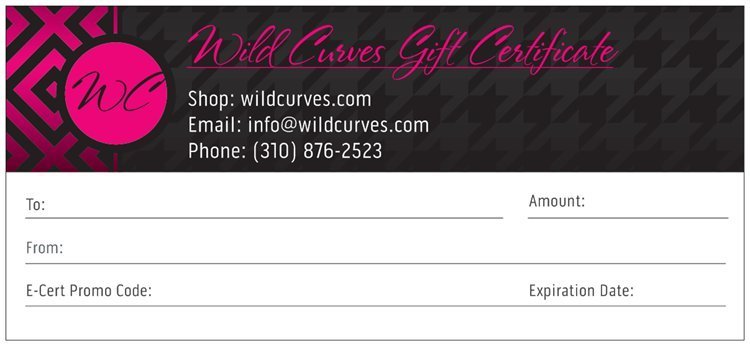 Wild Curves: Gift Certificate or E-Gift Card (Various Denominations)
Grab a gift certificate or E-gift card for friends and family!
Specially designed WC E-card or Certificate for any occasion!
You choose: E-cards, sent by email only and can be received almost instantly to you or the gift recipient. Include any comments on e-gift cards. Or, a gift certificate to be mailed in a fancy envelope worldwide. All gift certificates are pre-printed with a standard format.
To redeem either E-gift card or Gift certificate, simply apply the gift promo code in the coupon code box at checkout. Redeemable online or by phone.
For special messages to be included with your e-gift card, post in comment box during checkout.
Available in $10, $25, $50, $100, $200, $500 denominations
E-gift card received within 1 hour (upon request) of purchase to the designated email or delivery date of your choice
Gift certificates: Delivered within 2-3 business days within the USA via the free shipping option. All other countries see shipping options at checkout.
Type
Happy Holidays! (0) Happy Birthday! (0) Happy Anniversary! (0) Congrats! (0) Just Because! (0)
Gift
E-Card (By email) (0) Gift Certificate (By traditional Mail) (0)
Denomination
10 (0) 25 (0) 50 (0) 100 (0) 200 (0) 500 (0)