Real Reviews From Real Customers

Simply Art Dolcezza: The Love of Blue Happiness Abstract Art Zip Jacket (1 Left!)
fabulous design and colours lovely
fabulous design and colours lovely fit true to size
Real Reviews From Real Customers

Maloka: Colors Of Picasso's Gypsy Beauty Abstract Art Protective Masks 1, 2 & 3-Pack (More Colors, With Filter!)
Really enjoy comfortable masks. Always
Really enjoy comfortable masks. Always wear them around everyone
Paul Brial: Jungle Of Pink Purple Blooms Maxi Skirt
PB_ALBIZIA_N1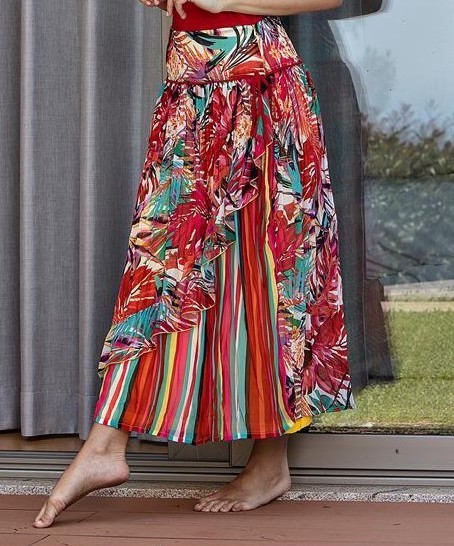 Paul Brial: Jungle Of Pink Purple Blooms Maxi Skirt
Spring/Summer Collection
Inspired by the wild blooms of a Pink/Purple jungle is this gorgeous skirt with hanging waist bow, diagonal ruffles and vibrant color on maxi length! A must have for the spring/summer vacay wardrobe!
Colorful elastic waist
Hanging left waist side bow
Pink/Purple jungle blooms print at middle
Diagonally ruffled hem
Maxi skirt
Simply beautiful!
Hit a little passed ankle level
Hot Hues: Pink/Purple blooms with a touch of Rose Red, Sun Yellow, Turquoise and White
Fabric: 100% Viscose
Machine wash cold inside out, delicate cycle
Made in France (Imported from Portugal)
Ships Immediately in: T3, T4 (1 Left in each!)
Others- Ships: 7-10 days
filterColors:00A8FF,FFFF00,24A226,40E0D0,FFC0CB,800080,FF0000
ships:immediately
Size
T0 (US 0-2) 1 Left! (0) T3 (US 6-8) Ship Immed, 1 Left! (0) T3 (US 8-10) Ship Immed, 1 Left! (0) T4 (US 10-12) Ship Immed, 1 Left! (0) T5 (US 12-14) 1 Left! (0)