Paul Brial: Jungle Of Pink Purple Blooms Cold Shoulder Top
PB_LITCHI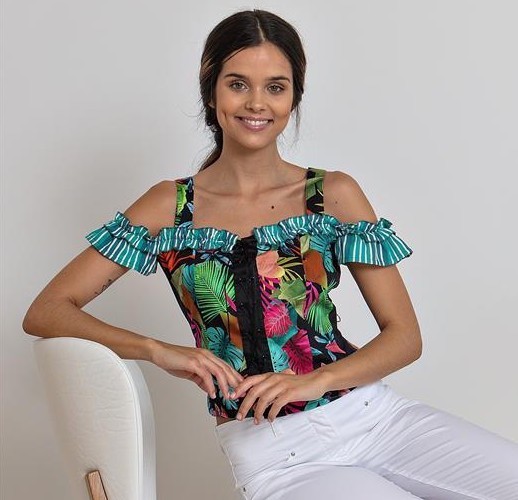 Paul Brial: Jungle Of Pink Purple Blooms Cold Shoulder Top
Spring/Summer 2019 Collection
Inspired by the wild blooms of a Pink/Purple jungle is this gorgeous top with cold shoulders, ruffled bodice, corset-like front closure and vibrant colors! A must have for the spring/summer vacay wardrobe!
Colorful ruffled sweetheart neck
Cold shoulders
Ruffled bodice and shoulders
Corset-like front closure
Pink/Purple jungle blooms print at middle
Gorgeous top!
Simply beautiful!
Hit a little aboe hipline
Hot Hues: Pink/Purple blooms with a touch of Rose Red, Sun Yellow, Turquoise and White
Fabric: 100% Viscose
Machine wash cold inside out, delicate cycle
Made in France (Imported from Portugal)
Ships: 7-10 days
Size
T0 (US 0-2) (0) T1 (US 2-4) 1 Left! (0) T2 (US 4-6) 1 Left! (0) T3 (US 6-8) 2 Left! (0) T3 (US 8-10) 2 Left! (0) T5 (US 12-14) (0) T6 (US 14-16) 1 Left! (0)