Real Reviews From Real Customers

IPNG: Tuxedo Scribbled Asymmetrical Sketch Wear Tunic
IPNG
love This . I also got the pants . Love IPNG
Real Reviews From Real Customers

Simply Art Dolcezza: Etagere & Miss Eze Printed Hoodie Jacket
Fabulous Jacket
I just received this jacket to match a Dolcezza top with the same pattern. The size Medium is sold out everywhere and I found the last one here online. It is colourful and bright. A great addition to your wardrobe!!
Luna Luz: Tied & Dyed Seersucker Cotton Skirt (Many Colors, Some Ship Immed!)
LL_S501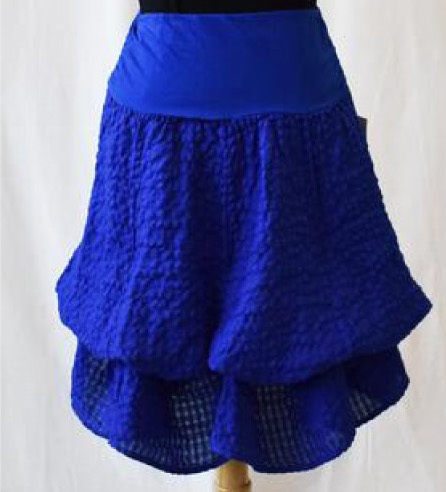 Luna Luz: Tied & Dyed Seersucker Cotton Skirt
Spring/Summer 2020 Collection
Creatively designed with comfort and style in mind is this inner hidden tied skirt for poof on a midi length and long length styled with a seersucker Cotton with stretch fabric!
Elastic waist
Pull-on
Midi length with ties or long length when untied
Hidden interior ties for poof effect or untie for straight long skirt
Ties also adjust length (Longer or shorter as desired)
Soft Cotton with stretch
Top in picture, sold separately
S: 4-6 (22" Waist, 36" Hip, 23" Length)
M: 8-10 (24" Waist, 40" Hip, 24" Length)
L: 12-14 (26" Waist, 44" Hip, 25" Length)
XL: 16 (27" Waist, 48" Hip, 26" Length)
Hot Hues: Black, White, Slate, Electric Blue and more!
Fabric: Waist Panel - 90% Cotton, 10% Lycra, Skirt - 100% Cotton
Hand or machine wash, Dry flat or tumble low
Made in the USA
Ships Immediately (Eligible for Free Next Day): ELECTRIC BLUE IN SMALL & MEDIUM, BLACK: SMALL, MEDIUM, LARGE (1 Left in each!)
All Other Colors/Sizes - Special/Made to order - please allow about 20-40 days to ship
Color
ELECTRIC BLUE (As pictured) (0) BLACK (0) WHITE (0) BONFIRE (0) CELERY (0) SKY BLUE (0) SLATE (0) ZEST (0) IRIS (0) NAVY (0) ANGEL BLUE (0) GOLDEN ROD (0) KHAKI (0)
Size
S (US 4-6) (0) M (US 8-10) (0) L (US 12-14) (0) XL (US 14-16) (0)