Real Reviews From Real Customers

Luna Luz: Tied & Dyed Off Shoulder Diagonal Striped Hem Dress
Great dress
I love this dress.
Real Reviews From Real Customers

Luna Luz: Short Sleeve Cross Over Bodice Tie Dye Long Dress
Best dress ever!
This is the best dress I've ever owned! I have it in many colors and have been wearing mine for a decade. Machine washable and dry...
Luna Luz: Rose Petal Ruffled Asymmetrical Linen Tunic (More Colors - All Ship Immed, Few Left!
LL_712_NEW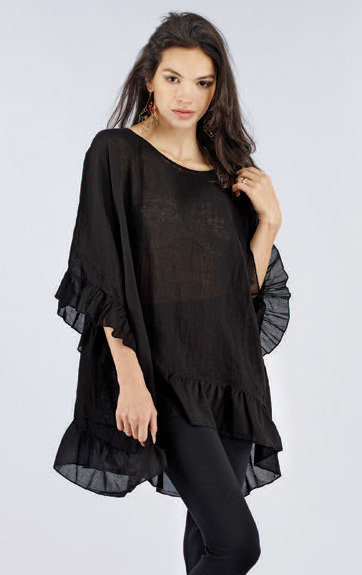 Luna Luz: Rose Petal Ruffled Asymmetrical Linen Tunic
Fall/Winter 2020/2021
Ultra feminine asymmetrical and rose petal ruffled is this flirty Linen long tunic perfect for a special occasion or just to look pretty!
Scoop neck
Three-Quarter long sleeves
Rose petal ruffled cuffs
Shawl like tunic
Pull-over
Rose petal ruffled hem
Asymmetrical hemline
Flattering look in deluxe fabric
Hits about mid-thigh
Hot Hues here: Black, White, Pale Pink and more!
Fabric: 100% Linen
Made in the USA
Ships immediately (3-7 days): Slate - S/M, L/XL, Angel Blue: S/M, White: L/XL, Black: L/XL (1 Left in each!)
filterColors:40E0D0,FFFFFF,A0A0A0,24A226,FFC0CB,FF7F50,4B0082,000000,FF0000,00A8FF
Color
SLATE (0) BLACK (0) WHITE (0) ANGEL BLUE (0)