Real Reviews From Real Customers
Dolcezza Simply Art Mask: Free Gift (Art Varies, as per pictures)
Beautiful
The mask is beautiful. its comfortable and fits perfectly!
Real Reviews From Real Customers

Fiore: I Have A Sexy Secret Open Gusset Opaque Tights (More Arrived!)
Just what I needed
These work well. Sure is a time saver in the bathroom!
Luna Luz: Feather Light High Waisted Cotton Pant (Ships Immed, 1 Left!
LL_211_N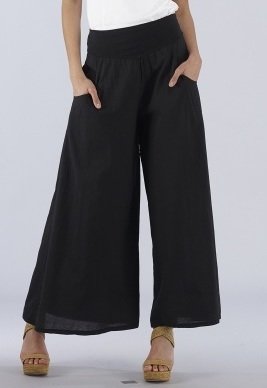 Luna Luz: Feather Light High Waisted Cotton Pant
Spring/Summer Collection
Wide leg with subtle flare, stretch knit waist and side pockets is this feather light Cotton pant!
Stretch Cotton knit waistband
High-waisted
Side pockets
Wide, full leg
Gradual flare
Cotton pant
Lightweight
Soft to the touch
Super comfy and chic!
S: 4-6 (28" Waist, 40" Hip, 27.5" Inseam, 14.5" Rise)
M: 8-10 (30" Waist, 42" Hip, 28" Inseam, 15" Rise)
L: 12-14 (32" Waist, 44" Hip, 28" Inseam, 15.5" Rise)
XL: 16 (34" Waist, 46" Hip, 28.5" Inseam, 16" Rise)
Top in picture sold separately
Hot Hues here: Black, Iris, Chocolate and many more!
Fabric: Knit (Waistband) - 90% Cotton, 10% lycra, Woven (Leg) - 100% Cotton
Machine wash cold. Gentle cycle, lay flat to dry
Made in the USA
Ships Immediately (Eligible for Free Next Day): Black XL (1 Left!)
filterColors:000000,24A226,A0A0A0,4B0082,FF7F50,FF0000,00A8FF
ships:immediately
Size
XL (US 12-14) Ships Immed, 1 Left! (0)