Real Reviews From Real Customers

Simply Art Dolcezza: Papillons Of The Night Abstract Art Tunic
Love this shirt!
I've worn it twice and feel so comfortable in this tunic. Many compliments and questions re where I got it. Of course I tell them WC.
Real Reviews From Real Customers

Simply Art Dolcezza: Distilling Colors Of Beauty Abstract Art Jacket (Few Left!)
Great jacket. I'm very pleased
Great jacket. I'm very pleased with my purchase!
Luna Luz: Corset Buckles Crop Top (1 Left in Pale Pink, Ships Immed!)
LL_316_TOP_N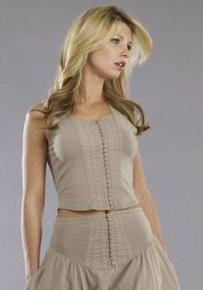 Luna Luz: Corset Buckles Crop Top
Spring/Summer Collection
Fall into style with a sexy crop top with an extra feminine corset buckle closure!
High cut sweetheart neck
Wide tank-type straps
Front planket in Woven Cotton
Body in Cotton and Lycra
Pull-over also functional buttons
Corset-like buckles closure
Fitted cut
Sexy
Fancy stitching
Pants in picture, sold separately!
Hot Hues here: Black, Bonfire, Chocolate, Iris, Militant, Mineral, Navy, Slate, Sandy
Fabric: Knitl: 90% Cotton, 10% Lycra, Woven: 100% Cotton
Hand or Machine Wash Cold Separate, Dry Flat or Tumble Low
Made in USA
Ships Immediately (Eligible for Free Next Day): PALE PINK MEDIUM (1 Left!)

Wear it with:

Luna Luz Corset Buckles Culotte Pant More Colors, Some Ship Immed!
filterColors:FF7F50,4B0082,A0A0A0,FFFFFF,000000,FFC0CB,00A8FF