Greetings all, this is Terr Cacilia! I am originally a youtuber starting my channel back in 2011, but nowadays I am also holding the titles of Junior Plus Size Editor for
Skorch Magazine
, Phat Girl blogger for
Phat Magazine
, and contributor to
VolUp2 Magazine
! I invite you all to join me in this guest blog post as I explore wildcurves.com, and highlight a popular trend that they offer.
I spend a great time with fashion in my every day, and a popular trend in the fashion scene that peeked my interest is known as "All Black Everything!" I of course adore this trend because I believe that black as a color is both simple, and versatile! Using the wide selection of clothing from wildcurves.com, I have put together for you my top looks! With a huge selection of clothing from a large selection of supremely talented designers, wildcurves.com is a top high fashion outlet for woman with curves.
Let us take a moment to admire the Crazy Winter Real Wool Coat, by Les Fees Du Vent Couture. Constructed with deluxe fabrics, this coat is made for the cold months of winter, but keeps fashion in mind all along the way! Knee length, button down, with a wide collar. Durable and stylish, this coat is a must have for the colder months.
My next coat is from Dzhavael Couture, and is the Asymmetrical Japanese Fan (Rosette) Coat/Dress! I absolutely love this coat, and in fact it looks so much like a dress. It is always a bonus when garments have dual purpose, allowing you to get the maximum amount of use out of them! Particular detail that I am fond of with this garment is the exquisite embellishment on the lower half! Long Sleeves, high neckline and a full length zipper. Pure design genius.
The next 3 pieces I selected are all from Double Jeu Paris. Each piece is a dress that holds design qualities that make it so much more than a quintessential "Black Dress".
The first of this trifecta is the Classique Bomba Dress. This dress is absolutely spectacular with its touch of sugar white on hem, bust and waist. The design of this piece allows for prime contouring of the waist and bust area. The possible ways to style this dress are endless. It could go from the office, to a fun date with the subtraction of blazer, and change of accessories.
Next is the Little Black Tweed Dress/Tunic. With a combination of fabric and texture it is aesthetically pleasing to the eye. This dress falls mid-thigh, and has a faux fur hem and a collar. I really want to highlight the mixing of fabrics. This trend is big, and I predict will grow. Keep an eye out for ensembles that mix patterns, and textured fabric in the future. This dress is on point, making it a must have edition to your closet.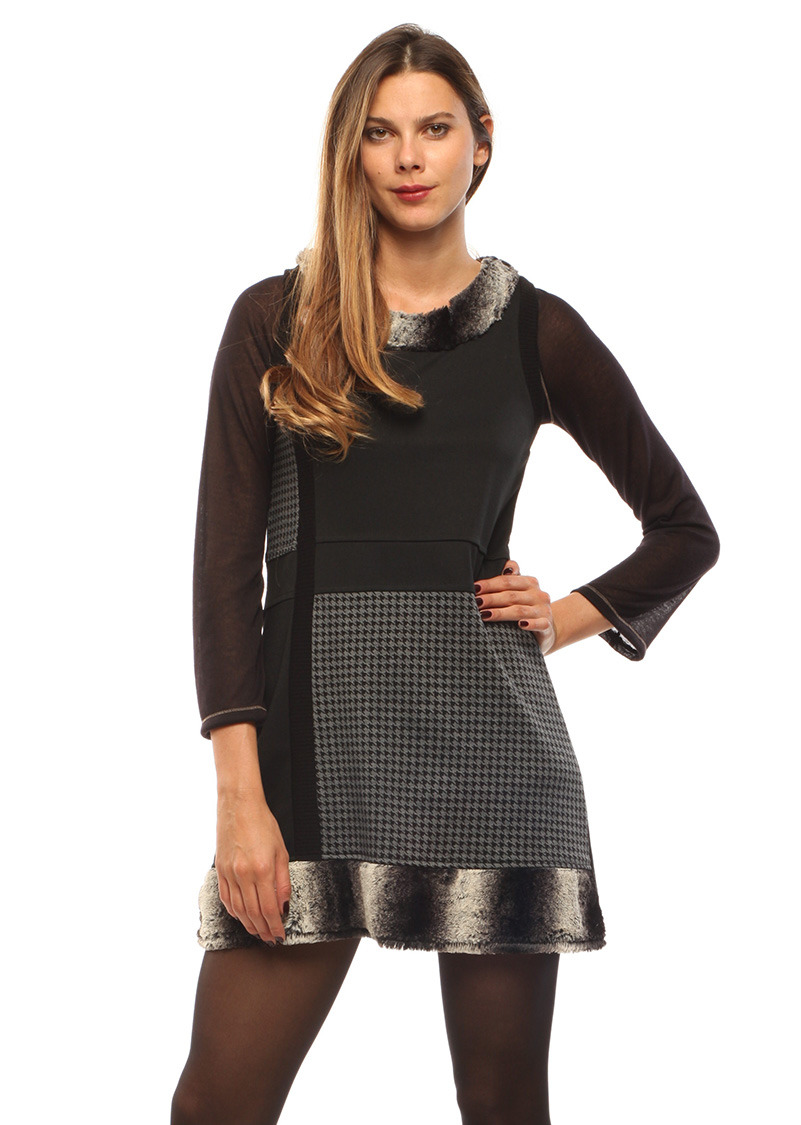 Final piece is the Red Light Lace Babe Dress. This is my absolute favorite dress that wildcurves.com has to offer! The simplicity combined with the zipper detailing is everything! Sheer Chiffon, sexy silhouette, and peephole at the top of the back makes this dress an absolute show stopper. Sleeveless with a scoop neckline, this dress is guaranteed to make you feel like a babe when wearing it!
This has been Terr Cacilia! Stay Pretty, Stay Chic, Stay Unique!
KEEP IN TOUCH!